The accommodations were suitable enough for a decent night's sleep, but sleep was hard to come by between the hours of 2AM and 3AM. I'm not a hard sleeper, but thunderstorms don't wake me often. There are, of course, always exceptions to the rule. I was jolted awake by a rather violent storm with constant lightning and loud thunder that rolled and sounded as if a 2×4 was cracked just above my head, which persisted for an abnormally long time for a storm of that severity. My room was on the west side of the building and took the full brunt of the pounding rain until it slowly abated to a soft pattering and I was able to drift back to sleep.
The hotel provided a continental breakfast and by most standards, it wasn't half bad. That, and the apple and donut I took for a morning snack would be enough to sustain me until my planned lunch stop. I prefer bananas to apples, but next time you're at a hotel be sure to notice their selection of bananas almost always look as if they've come off of the reduced price produce cart. As for the donut, suffice it to say that I have a minor addiction and it's rare that I possess enough willpower to leave them be. After breakfast I packed up my stuff for a scenic drive to Antietam National Battlefield Park.
I took Route 340 North, crossed the Shenandoah River, and then the Potomac River just under a mile downstream of the confluence. The river was angry, swollen, and red from all the Virginia and West Virginia mud that had been washed into it from the night's storms. I could only imagine what it looked like at Great Falls Park, just north of Washington, D.C. where the Potomac turns into a tidal river. There wouldn't be fishing of any sort anywhere close for several days.
Sandy Hook Road, which turns into Harpers Ferry Road is very scenic before turning to the northwest towards Sharpsburg. The road parallels the Potomac River and the Chesapeake and Ohio Canal Towpath, which runs concurrent with the Appalachian Trail in that section. The Canal Trail is over 180 miles long from Washington, D.C. to Cumberland, Maryland and provides camping, hiking, and bike riding opportunities, including the Paw Paw Tunnel which is over half a mile long. Just off of Harpers Ferry Road I stopped at the Kennedy Farm for historical context since I was in Harpers Ferry the day prior. The Kennedy Farm was where John Brown and his band of cohorts laid in wait, gathering supplies before their raid. The farm house is available to tour by appointment, which I didn't realize until I had already pulled over in the grass to admire it and take a quick picture.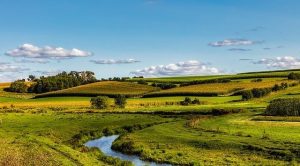 I crossed Antietam Creek, passed by two miles of corn fields, drove through the small town of Sharpsburg, and arrived at Antietam National Battlefield. I had been to the visitors center on prior occasions and brought my own driving tour map which I had acquired previously. Dunker Church is just within a stone's throw of the visitors center. I had been inside the church before as well, but walked in to immerse myself in the plaintive structure. The church became famous when Alexander Garden took a photo of dead Confederate artillerymen strewn out in front of the cannon-riddled structure, after the battle. Inside, neat rows of hardwood pews sat on a black painted hardwood floor with a single wood stove. Although the church found itself in the middle of a raging war, the Dunkers themselves were stringent pacifists and refused to serve on either side.
Next, I drove to a small parking lot to walk The Cornfield Trail. The Union often named the battles after nearby landmarks. In this case, Antietam Creek. Confederates, on the other hand, often named their battles after a nearby city of town. In this case, Sharpsburg. In other instances, they both used the same name, such as Gettysburg. Since the Union prevailed, most history books favor the Union designation. To this day, the battle of Antietam on September 17, 1862 is still the costliest single-day battle in the history of the United States, resulting in almost 23,000 casualties. Almost one-third of the troops were killed, wounded, or captured. The Cornfield saw some of the most ferocious close combat fighting of the entire Civil War. The Cornfield changed hands numerous times as the tides of the battle advanced and retreated when more than 25,000 soldiers fought on this small piece of the battlefield. Interpretive signs tell the story of how almost 8,000 men were wounded or killed in The Cornfield.
After I walked The Cornfield Loop, I drove over to Bloody Lane and the observation tower. Colonel John Brown Gordon (no relation to John Brown), who later became a General, was shot five times, as Confederates tried but eventually failed to hold off a superior number of Union forces. What was a farm road, sunken in by continuous use of wagons, now held literal heaps of dead men. Someone coined the name Bloody Lane and it stuck. It's a sobering location. On the eastern side of Bloody Lane is an observation tower which I usually oblige its challenge by climbing to acquire a semi-bird's eye view of the battlefield.
At Burnside Bridge, Union General Ambrose Brunside poured his men over a bridge that spanned Antietam Creek. The Confederates were well-placed on the opposite side of the creek and held off the attack for several hours. Some saw Burnside's actions as a blunder. Little did they know it would foreshadow his more disastrous plan at the battle of Fredericksburg later that same year. The last time I walked across the bridge, Antietam Creek was tranquil and clear as I saw Bluegill darting around. I could tell from the muddy bent down grass that the creek had been out of its banks earlier from the storms.
I was beginning to get hungry so I looked for a place to eat. Dan's Restaurant and Taphouse in nearby Boonsboro sounded fun and promising. The Pry House was General Meclelland's headquarters during the battle of Antietam and the Pry's barn was used as a field hospital. The house is now a Civil War medical museum and was right off the road to Boonsboro, so I dropped in. Just looking at some of the exhibits and methods that were used to treat the wounded would make any sane man cringe when compared to the technology of today. Due to the lack of pain medication and sedatives, many soldiers simply passed out from pain while being operated on.
Once I was in Dan's, I learned I was walking in the footsteps of Al Capone, and it wasn't my first time. I had stayed at a hotel in Chattanooga, Tennessee that Capone was housed in on his way to his federal trial. Dan's was a favorite of Capone's when he lived in Maryland. When in the crab state, eat crab. I ordered the Crab Club, hold the mayo. Never have been a fan. The beer menu immediately grabbed my attention. I love a good sour, so I ordered Harpers Berry, a local fruit sour made with blueberries and raspberries. I could've drank that all day, but after I cleaned my plate from the Crab Club and hand-cut fries, I set my course for the first winery of the day.
I had to backtrack to get to Antietam Creek Vineyards. My stomach had said food first, wine second. Liquid lunches aren't all bad though. The tasting room was in a barn over 100 years old. Surprised? I purchased a glass of their 2016 Antietam Reserve, a red, and their 2016 Sauvignon Blanc, which would have paired exceptionally well with my Crab Club. I sat outside at a picnic table under some trees and enjoyed the comfortable temperatures brought by the passage of the front and the light northwesterly winds.
     I was finally going to camp that night. It was going to be dry and the temperature was supposed to drop into the low sixties. Perfect camping weather. I had already selected William Houck Campground. Each campsite was level crushed stone, complete with a fire ring, picnic table, lantern post, and nearby bathhouses. I made a reservation for just over $20. There was a lake with a beach for swimming and hiking trails as well. I had two other stops first, however. Three if you included the grocery store for fresh food to make and eat while camping.
I took the most direct route to Catoctin Breeze Vineyards, just north of Thurmont, Maryland, where I was going to meet a coworker and her husband. After wine they were bringing me to the American Legion as a guest to play bingo. I had never played bingo in a large hall setting. As I was driving, I thought about my upbringing in Orange County, Virginia, where they had bingo games under a large tent at the county fair. At the annual Somerset Steam and Gas Pasture Party, where old steam engines and tractors were brought back to life every year and the Saturday night tractor pull was the place to be, cow patty bingo was a favorite, if not unusual game. A grid was drawn over a map of the field where the event took place and a cow was bridled. The cow walked wherever it pleased with its handler. Whoever bought a ticket and picked the grid where the cow dropped a patty won a prize. They had navy beans cooked in large drum kettles that sold out before lunch each day and on the top of the hour all the steam engines and tractors blew their whistle at the same time, which I dreaded when I was small. I have fond memories of my grandpa taking me every year.
It took me about an hour and a half to drive to Catoctin Breeze Vineyards, named for the Catoctin Mountains that I had just driven through, and the same mountains where I would be camping that night. That included my stop at the grocery store to purchase some fresh provisions to store in the cooler. Inside the tasting room (a converted barn, of course) a stone fireplace rose to the top of the high vaulted wood ceiling. My friends were already sitting at the bar stools in front of the tasting counter. We had three tastings to choose from: Premier, Seasonal, or Sweet. We settled on the Seasonal which included two whites, two reds, and a mead. My wife is obsessed with honeybees so much that she has put a lot of research into starting a hive. She is also obsessed with variants of honey, and thus meads. The notes of various spices in the mead immediately made me think of having a glass with pumpkin or sweet potato pie at Thanksgiving. After the tasting we purchased a blended bottle and took it out to the lawn chairs to enjoy in the sun while admiring the nearby Catoctins. I don't think my friends had quite the affinity of mountains as myself, but they still recognized the beauty of the setting. It was such a comfortable and pleasant afternoon and we all three thoroughly enjoyed the wine, so we purchased a second bottle and talked for a few hours until it was time to head down to the American Legion Post 168 for dinner and bingo.
Downtown Thurmont was about a three minute drive and the parking lot of the American Legion was already fairly full for two reasons. First and foremost, it was bingo night. Second, one of the kitchen specials for the night was homemade meatloaf, mashed potatoes, and smoked collard greens. Seemingly southern fare for a northern state, but who was I to complain? I gathered that some had already been there for a while because as we walked in there were a few at the bar singing to a country song. We ordered our food and participated in one of my favorite sports: people watching. It only took a few minutes to get our food and I inhaled it because the games were about to begin. My friends were there for the duration, but I only played three rounds. I didn't win. In fact, I didn't come close, but I still had fun. Judging by her excitement, you would've thought the woman who won the second round had won the Grand Showcase on the Price is Right, and not a single round at the bingo hall. I made my exit so I could get to the campground and find my site before it was completely dark.
My tent was much bigger than I needed for just myself, but I brought that particular one out of convenience. It was big enough to comfortably sleep six, bulky and heavy, but it was pre-assembled and took five minutes to put up or take down. I hurriedly pumped up the air mattress with the twelve-volt electric pump that made me painfully aware of how loud it was as the last glimmer of light faded from the western sky. I donned my headlamp to finish setting up camp and hung a crank battery-operated lantern in the middle of the tent and opened up Roosevelt the Explorer. It seemed a fitting book to bring on this trip since I was exploring territory new to me and hoped it would be filled with adventure as much as Teddy's life was.