I've always been a relatively early riser and I feel as though I've wasted time if I've slept past 8:00 AM, so it's no surprise I was up by 06:00 AM. I checked out of the hotel and was on the road less than an hour later. Destination: Fort Valley, in the northernmost portion of the Massanutten mountain range. The entrance into the valley is a winding road that runs along Passage Creek, which over thousands of years, has carved a narrow gap with steep sides. After about two miles I arrived at Elizabeth Furnace Recreational Area, before the road opened up into a fertile valley.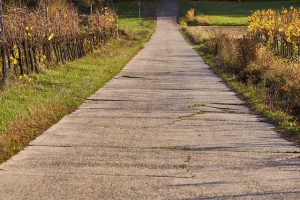 Named for the ruins of an old iron furnace, Elizabeth Furnace Recreational Area has several trails and campsites. I hiked the Pig Iron and Charcoal Loop trails, which were fairly short. After a breakfast of a homemade bagel courtesy of my wife, and a banana, I drove over to the campground and wished I had spent the night there. Other than the convenience, a hotel is the easy option. I made a mental note to select a spot to camp that night, but I'd have to get out of the valley for better cellular reception to look at some maps on my phone. I had also made a note of Passage Creek as I drove beside it on my way in. The stocked trout waters placarded on the trees every hundred yards or so felt like a personal invitation.
There were a few gravel pull-offs on the side of Fort Valley Road and the high ridge line where Buzzard Rock was located still shaded a portion of Passage Creek. I threw on my waders, took my rod out of its case and just a few steps later the cool water collapsed and pressed the waders against my skin. Even though it was May, the combination of shade and water temperature gave me goosebumps. I had a small wooly bugger fly, a standard for any trout angler. It worked. The deeper pool below the set of narrow rapids held a handful of small rainbow trout. I quickly released each one and waded downstream to a slower section of water. After casting for half an hour or so and catching only one additional trout, I determined the major feeding time had elapsed or there weren't many trout in that stretch and walked back to the car.
By mid-morning it had started to warm up so I made the short drive to Skyline Caverns. I've always enjoyed caverns and my favorite to date is still Lost World Caverns in Lewisburg, West Virginia. The full guided tour of Lost World was a six hour excursion that left us muddy after many precarious claustrophobic moments for me, but my wife couldn't have had a better time. I'd do it again, but that entire story is for another day. Not far from the more infamous Luray Caverns, Skyline Caverns was still an enjoyable activity. The lighting in the cavernous rooms with names such as Grotto of Nativity, Mirror Lake, Painted Desert, and Rainbow Trails offered a different and unique experience compared to what I'd seen with headlamps and flashlights and it's also easily accessible for adults and children.
I'm a huge history buff, particularly when it comes to the Civil War. Harpers Ferry, West Virginia carries significant historical importance for many events that have taken place there, but the most familiar to people is usually John Brown's armory raid and standoff. The National Park Service maintains a portion of downtown Harpers Ferry and it's like being dropped back in time, 150 years ago. In fact, it's been used as movie sets for films of that time period. I'd head up there and walk around some after my first vineyard stop of the day.
As I drove over the Shenandoah River on Castleman's Ferry Bridge, the sun reflected a thousand bright golden ripples caused by the breeze moving over the top of the water. No more fishing that day, however inviting it may have looked. I passed through Snickers Gap on Route 7, made a few right turns, and soon arrived at my destination. Bluemont Vineyard is located just south of the Virginia/West Virginia border at the base of the eastern face of a shallow ridge line.
Cracker Barrel isn't what I'd call fine dining, but I'd be lying if I said I don't like going there. Their homemade biscuits will melt in your mouth, but I enjoy admiring all of the antiques hanging on the walls and lattice. Bow saws and handsaws that look a century old hang in Bluemont Vineyard's tasting room. The stone walls remind me of the backbreaking labor subsistence mountain farmers built to hold their cattle or hogs and the stacked barrels outside brought up images of a hidden mountain moonshine still. The view from the deck overlooking the countryside felt like home.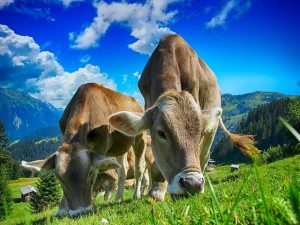 The Cow, though. Not an actual cow, but their Vidal Blanc "The Cow." It was the perfect glass to sip on a warm spring day. Fruity, but not overly sweet. Not far removed from Washington, D.C., I gathered from some of the conversations around me it was a weekend destination and an excuse to get out of the hustle and bustle of Northern Virginia. The fact that Dirt Farm Brewing and Henway Hard Cider was just a stone's throw from Bluemont Vineyard made the area that much more appealing, I'm sure.
Back on the road, I didn't take the fastest route towards Harpers Ferry, but through the small community of Round Hill. It was past lunchtime and I needed something in my stomach. Enter Round Hill Grocery. I loathe establishments that serve breakfast all day, but I ordered a fresh sub from their deli. Their exotic meat selection was really what caught my attention. Alligator sirloin, Emu steaks, Duck Bacon (for real?!), Elk medallions, Wagyu burgers, and more. If I had had ice and the correct spices, I most certainly would've purchased something to cook over an open flame that night. I watched the lady working the deli take out and slice both cuts of meat and cheese, put my sub together, and wrap it. Fresh. I headed north through Loudoun Valley while eating my sub and joined Harpers Ferry Road.
On a road trip, unscheduled stops should be commonplace. In fact, I've experienced, learned, and seen just as many things by being flexible. 868 Estate Vineyards was an unscheduled stop. I was sold on my decision when I spied an old rock fence, equally old barn, and a kiddie pool with a black lab resting in water up to its shoulders. I purchased a tasting and enjoyed sitting in the cool air conditioning. A married couple was in a debate about whether to take a tour of Harpers Ferry or visit the outlet malls in Leesburg that afternoon. The wife won by default, due to the unseasonably warm temperatures that afternoon. I sat a few moments longer to listen to all the stores she wanted to visit, congratulating myself on marrying a woman who enjoys historical towns as much as I do.
I've been to Harpers Ferry several times, but if I'm in the area I feel as though it's a disservice to myself if I don't drop in. I relearn what I had forgotten about John Brown's raid, civil rights, the Lewis and Clark expedition, and great floods of the Potomac River. I walked across the Winchester and Potomac Railroad Bridge to the Harpers Ferry Tunnel, at the base of Maryland Heights. The hike to the top of the scenic overlook is not for the faint of heart, but you're rewarded with a bird's eye panoramic view of Harpers Ferry on the opposite side of the river. I was feeling slightly faint (not really) due to the heat and instead walked back across the bridge for a shorter, yet still very steep hike to Jefferson Rock, overlooking the Shenandoah River.
Jefferson Rock is a rather popular spot so I spent only a short time admiring the Shenandoah River before walking back to my car to drive over to the Murphy Farm, which is maintained by the National Park Service. Part of the Battle of Harpers Ferry was fought on the Murphy Farm in 1862 and a ? of a mile walk on level terrain past a line of Napoleon cannons brought me to another vista overlooking the Shenandoah. I sat there wondering what it would've felt like to be a soldier in the Army of Northern Virginia or Army of the Potomac, fighting and marching through the countryside and mountains. Did they see the beauty of nature all around them or just the destruction wrought by man?
The sun had dipped below the tops of the trees to my right, casting a longer shadow as each minute passed. I needed to decide what my plans were for the night. It was hot. I really didn't want to camp. I checked the weather earlier in the day and knew a cold front would be pushing through the next day making comfortable camping conditions. I decided to hit one more vineyard or winery, find some dinner, and hotel it again. I was still in a historical mood and wanted to visit Antietam National Battlefield since I was just a few miles away, as the crow flies. I opted to stay local for the evening.
I'm not a fan of the latest technology. I never have the newest computer or phone and prefer paper books. I do make exceptions, such as having a search engine and map at my fingertips to find something or some place I'm looking for, whether what I find is what I intend to or not. Hiddencroft Vineyards, just west of Lovettsville was what I found. I drove out of West Virginia, into Virginia, north across the Potomac River into Maryland, and back south over the river a second time into Virginia again in the span of about ten minutes.
It should be no big surprise that as I drove into Hiddencroft Vineyards I was greeted by a large red barn barn adorned with antique plows and a stone path that led to a spring house with an old tin roof whose water feeds Dutchman's Creek. A large dinner bell hung from two wooden posts beside a very rudimentary looking cabin complete with primitive furniture on its tiny porch. I walked through the barn to the tasting house. I love blackberry wine, which they had, but settled on a glass of Dutchman's Creek Blend. If only I had a steak to pair with it. Mission updated: Find a steak for dinner, and a place to bed down for the night. I sat outside on the deck drinking my wine while looking at the cabin and contemplating what it's like to live without air conditioning, coming to the conclusion that I'm rather spoiled.
I searched for a steak place and ended up at Alfredo's Mediterranean Grille and Steakhouse in Charles Town, West Virginia. There's a casino and racetrack there for anyone who's interested. In fact, I once knew a guy who wanted to go gambling and planned on going to Charles Town and ended up in Charleston, West Virginia, almost five hours in the wrong direction. What did he do when he got to Charleston and realized his mistake? He drove half the night to arrive in Charles Town about 3:00 AM. Back to Alfredo's. I don't branch out too often when it comes to culinary experiences, but I made an exception. Their Ghormeh Sabzi is a Persian dish of steak, mixed greens, and herbs over rice. It sounded good and it was.
I left with a full stomach and drove to the other side of the racetrack to my hotel. I briefly looked at my iPad and maps to make some sort of a plan for the following day. First stop, Antietam National Battlefield. Second stop, lunch. Third stop, wine.