I left the house with a loaded trunk and full back seats by 7:00AM. I wasn't even going to make it out of Virginia the first day, but it would be busy nonetheless. I planned on hiking, fishing, and stopping by three vineyards and wineries. I picked up Route 231 in Gordonsville and took that scenic country  winding road over and around rolling hills through prime farmland to Banco, which is little more than a garage and a few houses on the banks of the Robinson River. There, I turned onto the Old Blue Ridge Turnpike towards the lower parking lot for White Oak Canyon in Shenandoah National Park.
My first stop was Criglersville, in Madison County. At the former elementary school in the small mountain community was a single stone chimney which encases a bronze plaque. My family's last name was engraved on it, along with several dozen others. I'm a descendant of those who were given the boot from their land to create Shenandoah National Park. Some, who refused to leave their mountain home because it was the only life they had ever known were handcuffed, physically removed, and their homes burned to the ground so as to ensure they'd never return. All that remains of some of those homesteads are the stone chimneys. The Blue Ridge Heritage Project has recognized the loss endured by those people who lost their livelihoods, and with the help of various historical societies, has built lone stone chimneys in counties in which the federal government condemned land to build the park. I've been able to hike to the remains of some of the homesites, but that's a story for another day.
Few people today who enjoy everything the park has to offer realize the personal sacrifices that were made almost 100 years ago. Through educational and interpretive programs, Shenandoah National Park now openly discloses what took place. That morning, I went into Weakley Hollow to hike the Lower White Oak Canyon Trail to the lower set of falls. It's an easy to moderate hike depending on your level of comfortable activity. It was supposed to warm up to the upper seventies so I stashed a water bottle in the river under some rocks near the base of the trail so I'd have a cold refreshing drink when I returned. Just make sure you have landmarks to remember where you placed it! At the falls I waded waist deep in the cool mountain water. An hour later I was back in the car, headed to DuCard Vineyards.
DuCard Vineyards is tucked into Gibson Hollow between the rocky prominence of Old Rag Mountain at its back and a smaller ridgeline directly opposite to the east. You drive by the entire eastern portion of the vineyard's grapevine rows on a packed gravel road as it takes you to the tasting room. I ordered a flight of two whites, one red, and a dessert wine and simply enjoyed the beauty of the surrounding setting while listening to the birds as I sipped. This was a tasting trip, not a purchasing trip, as I didn't want to leave numerous bottles of wine in the hot car during the day.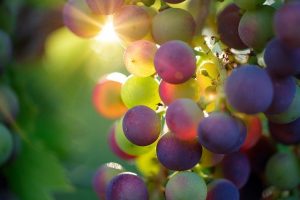 Next stop, the Hughes River near the small community of Nethers. I just happen to also be a direct descendant of the founders of this little hamlet as well. The Hughes is a good, small Rainbow Trout stream, but in the spring most of the stocked trout have been caught, save a few holdovers. I parked on the side of the road and threw on my fishing vest and wading shoes and stepped into the cool water. It was comfortable, what with the sun simultaneously warming my arms and neck. I waded up and down a stretch with some shallow rapids and deeper pools catching a few Chubs and Smallmouth Bass before my pearl-colored plastic grub I was using as bait was hit hard. The water was crystal clear and as I slowly reeled in the fish I saw a quick silvery flash against a large bluish stone on bottom. It's definitely a Rainbow Trout and a decent size one for the Hughes. After fighting with it for a minute or two I brought a fifteen inch trout out of the water. In an attempt to cause the fish as little stress as possible I quickly removed the hook and released the trout.
I decided that was the pinnacle of my fishing that day so I got out, dried off, and changed back into my trail shoes in preparation for the one mile drive to Sharp Rock Vineyards and Winery. There are times when it's fun to be part of the party, and other times when it's fun to be a fly on the wall. That afternoon there was a wine tasting bridal party of a dozen or so girls traveling on a small chartered bus. Either they thoroughly enjoyed Sharp Rock's selection or it wasn't their first stop. I learned more than I needed to about family feuds, lost loves, and the terrors they probably were as teens. It did, however, provide for some entertainment as I drank a glass of Chardonnay and Old Rag Red. When the girls departed, so did my amusement. Don't get me wrong, I thoroughly enjoyed sitting at the outside table listening to the water and admiring the mountains, but the atmosphere wasn't what I walked into and I felt like something was missing once they left, so in return, I made my exit as well. Off to the last winery of the day, but not before one quick stop.
I got back on Route 231 and headed north to Sperryville. Just west of Sperryville is a glass art gallery named Glassworks Gallery, where local artists make, display, and sell their work. I always fancy locally made products, even if it's just to admire, and not purchase. After parking in the gravel lot, I had to walk across a wood footbridge that spanned the narrow but swift moving Thornton River. I opened the door and a little bell rang. Then, much to my surprise, a girl I went to high school with came out from the rear. Actually, it didn't surprise me she ended up at a place like this. We reminisced about our youth and caught each other up on our current lives. She then gave me a tour of the glass blowing studio building behind the gallery and showed me some of her works, which were stunning. One of her paperweights caught my eye and I ended up purchasing it (I got the family discount, but would have bought it regardless).
A circuitous route of more country roads led me just north of Hume to Winding Road Cellars, owned by a husband and wife. A small "mom and pop" operation that simply felt homey when I walked in, the all pine tasting room was inviting and comfortable and reminded me of a remote cabin set back from civilization for the sheer purpose of providing an intimate experience. After a sampling of their wines, I wanted to retrace my steps a few hundred yards before I found somewhere to bed down for the evening.
You can call it morbid, but I call it fascinating. I love walking around old cemeteries. The original sanctuary of The Episcopal Church of Leeds Parish was built in 1842 and was destroyed by fire in 1873, but not before being shelled by Union troops during the Civil War. Across the road is Leeds Cemetery which has numerous gravestones pre-dating the Civil War. It's always interesting to read etched epitaphs. One inscription told of a surgeon on a steamer that became stuck in the ice of the Arctic, where the entire crew perished in 1884.
I retraced a few miles of roads in the opposite direction and took some back roads into Front Royal. Interstate 66 would've gotten me there quicker, but one of the purposes of this trip was to see rural areas. I found a cheap hotel and looked for dinner. Soul Mountain Cafe and Grill's Slow Cooked Jerk Chicken with cream of coconut rice and BooBoo's homemade cornbread- enough said. The next day I'd hit another trail, go underground, sample some more wine, and end up in another state.