Valentine's Day is right around the corner and with that being said, all I can think about are delicious chocolate truffles and the perfect glass of wine to go with it. Most restaurants on or around Valentine's day will have special wine lists that will pair perfectly with their chocolaty desserts which makes it easier to decide on what to choose. But I love to do my own pairings at home with my husband on Valentine's Day. So the question lies, how do you pair the perfect wine with delectable chocolate? According to winefolly.com follow a few of these simple guidelines:
Make sure the wine is as sweet as the chocolate; wine will taste bitter if it is less sweet then chocolate.

Use high quality chocolates when pairing with wine.

When tasting, break the chocolate bar into tiny piece and let the chocolate melt into your tongue. Chewing the chocolate takes away from the taste.

Pair wine with same darkness as chocolate. For example, white wine should be paired with a lighter, sweeter sometimes fruity chocolate.

Smooth wine should be paired with a chocolate as smooth.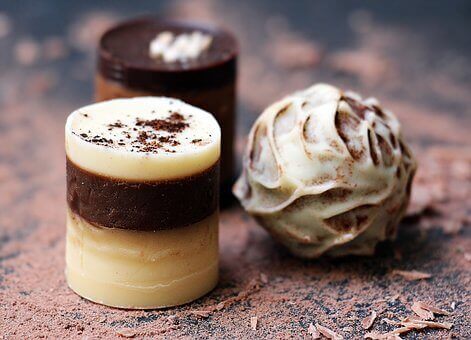 Now that we have gone over some basics to pairing chocolates with wine, it is time to talk about which chocolates go with which wine. White Chocolate will pair nicely with Rose Port, Moscato, Ice Wine, orange Muscat, or Lambrusco. Milk Chocolate like a ganache chocolate cake will pair impeccably with a creamy Sherry, Shiraz, or an Aged Vintage Port.  Caramel Chocolate goes well with a Moscato d'Asti or a Sweet Champagne, yummy! Dark Chocolate matches perfectly with a nice Vin Santo, Port, Pinot Noir, or a Cabernet Sauvignon.

 Pairing the perfect match between wine and chocolate should be a fun activity for you and your love one to enjoy. Whether you go out to a fine restaurant or have a pairing at home, keep these simple guidelines in mind it will surely be a match made in heaven!