Economics of Owning a Small Winery
  You see the story again and again, many couples and individuals dream of owning a winery and/or vineyard. It certainly seems like the life, as owning your own business often does. Not only that, but you are not trapped inside and more often than not, the space and land is simply spectacular. I don't need to go into much further detail on why this is the dream of many. What I want to do is to give you a little peak into the economics of owning a winery and what you can expect financially. Let's be honest, unless this is a side gig and you have plenty of money set aside, it is good to know how you can expect to benefit financially from this investment, and have a realistic timeline associated with that.
There are two ways to own a winery:
Build one from scratch
Buy one that has been established
  No matter which one you choose, it's going to cost you. There are benefits to both. If you decide to build a winery from scratch you have a lot more say in many aspects of the winery:
Where it is specifically located
The look/feel of the tasting room, built to your specifications
What varietals are planted
The size of the property
If you choose to buy a winery that has been established:
  Many wineries for sale are turn-key operations including all equipment in the sale. This means it would probably be a larger upfront investment, but more affordable in the long run.
Clientele established
Winery, Tasting Room, and Barrel Room already built
Like a move in ready winery, there will be little to no wait from purchase date to profit.
Vineyard planted and producing
  Obviously everyone has different priorities. If fulfilling your dream and creating the ideal winery (in your opinion) is yours, and financials are on the back-burner, starting a winery from scratch would be the better option. If you are a little tight on money and would like an income stream sooner than later, buying a winery for sale might be a preferable option to you.
  Let's begin with the economics of starting a Small Premium Winery from scratch. According to Esendugue Greg Fonsah, Assistant Professor and Extension Economist at the University of Georgia, you will cost about $2,000,000 over the 4 years to establish the winery. The year with the highest cost would be the first year running you about $700,000. (This is for a winery and vineyard with 4 varietals.) Year four being the lowest cost of about $1,545. He does however project a Total Revenue upwards of $1 million by year 6 and beyond.
  The largest cost comes from the Winery, office, vehicles and receiving equipment totaling 70% of the total capital assets. In addition, the cost of fermentation and storage decreases as time goes on. Here is a chart detailing the Projected Capital Assets through the first 5 years: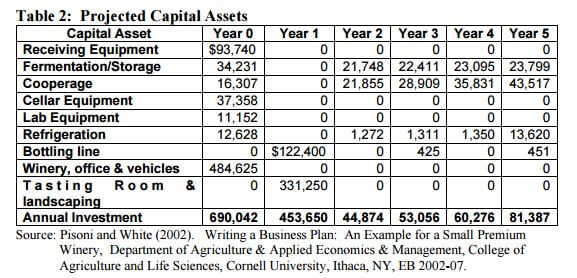 Operating Costs on the other hand tend to increase over time. According to Pisoni and White, in year 1 you can expect your operating costs to be $255,655. By year 7 they project operating costs to be over $900,000. Here is a detailed chart on operating expenses over the course of 7 years:
  You can expect to be in the negative for the first four years. That is why it takes a substantial amount of money to begin a winery from scratch. From year 5 the cash flow is supposed to increase upwards of $100,000. It continues to increase the next several years and then levels out around year 10.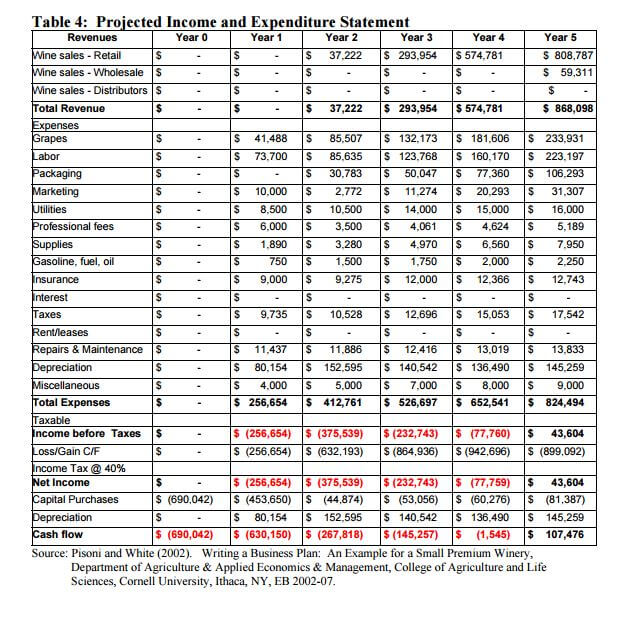 Side note: Although not previously mentioned, an additional profit can be made by marketing and utilizing your winery as an event space. In Virginia these tend to run upwards of $2,000/per event.
Virginia Property that is Ideal for a Winery
  There are thousands upon thousands of acres of land for sale in Virginia. It just so happens that Virginia land is exceptional for all types of agriculture. There are AVA's and wine trails all over the state. Basically, in Virginia, you take your pick on where you want to start a winery, and the professionals at Virginia Estates are experts in making it happen. Waterfront, nestled in the valley, close proximity to Washington, DC? No worries, they have you covered.
Buying An Existing Winery for Sale
  For all of us lacking 4 years of income set aside in addition to the large initial investment, buying a previously established winery is a way to get in on the dream as well. Wineries range in price, depending on a lot of different things. Some of these include:
Location
Acreage
Tasting Room/Winery/Barrel Room
Turn-Key
Established Clientele
Vineyard
  There are certainly many items that come into play. The owners of these wineries and vineyards for sale have also invested varying amounts of money, and some are more desperate than others to sell. Some may take $200,000 less, others might not budge. Be ready. Know your price range, and know what you would like included in the sale. For example, if the winery is not being sold as a turn-key establishment, you need to be prepared to spend an additional amount on the equipment, and perhaps less on the purchase of the winery.
  Another way to make it work might be partnering up with someone? Or going in as a family venture. There is a winery in central Virginia that is a full fledged family operation: Parents purchased and started the vineyard & winery, they have three middle aged children. One daughter is the vigner, one daughter runs the B&B on the property, and their son runs the business aspects of the winery. How awesome is that?!
  Virginia Estates has been helping people buy and sell wineries for almost 30 years! To say they are experts might be an understatement. There are three specific price ranges for vineyards on their site: under $500K, $500K-$1M, and $1m plus. Now, some of these will have wineries and tasting rooms, some will have buildings that are perfect to create tasting rooms, some will have neither. Again, know what you want included in your purchase, or have an idea of what different things will cost you so that you can manage how you spend your money. Also, it is easy to market your new property as an event space right off the bat, especially if the tasting room and patio already exist!