As the temperature drops, many think it's time to retire the white wines and rosés they've been enjoying all summer long in favor of more full-bodied red wines. But fall is the perfect time to enjoy a range of wines, from white to pink to red – as long as you know which grape varieties to choose. The best fall wines are more complex than the light and fruity wines of the summer, but they aren't as rich as the wines you'll drink by the fireplace in February. 
White Wines for the Fall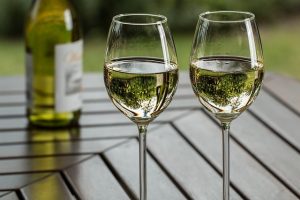 All summer we searched for the crispest, lightest white wines, but the best white wines for the fall bring a bit more body and complexity. 
One of the best white wine grapes for cool weather is the Sémillon grape from Bordeaux. Sémillon is often blended with Sauvignon Blanc grapes to reach their peak complexity. The best bottles for the season are aged, optionally in an oak barrel depending on your taste preferences. 
Another white wine grape variety to try this fall is Roussanne. Roussanne grapes are often blended with Marsanne grapes to produce a medium- to full-bodied white wine with an extraordinary aroma. 
Autumn Red Wine Varieties
The best red wines for the fall season are lighter-bodied reds that help transition from light summer to full-bodied winter wines. 
While it's hard to find a season when Grenache isn't popular, the grape truly shines in fall weather. Grenache is light and straightforward enough that it won't leave you feeling full and sleepy after a big glass, but it's undoubtedly satisfying nonetheless. This is the perfect variety to experiment with all season long as the flavor shifts dramatically from region to region. 
Another great red wine for the fall is Cabernet Franc. This is the perfect fall wine for those looking to move away from the summer's fruity palate. While many bottles of Cabernet Franc will still give you underlying notes of strawberries and stone fruit, there's much more complex than that. The wine also features spice, with notes of chili, bell pepper, and peppercorns making the wine an almost savory experience. 
Cool Weather Rosés
While rosé has been heavily marketed as the ultimate drink of the summer, pink wines are actually the perfect way to transition into sweater weather. Rosé wines are typically made in a dry style, so they aren't too far off from a white wine but are still more refreshing and approachable than most reds. If you want the perfect pink wine for cooler weather, look out for rosés that are described as being fuller-bodied. 
One of the best rosés to look for in the autumn is from the Tavel area of France's Rhône wine region. These wines tend to be particularly dry with a richer and fuller taste and texture than many other rosés. Pink wines from this region are usually made from Grenache grapes, a wine grape that also makes great red wines for the fall season.