Over the past couple of years more people have been drinking wine at home. It was the glass we poured to sip after we turned off the computer for work, to make late lunches and dinners at home feel special and to virtually celebrate births, weddings and anniversaries. Through the changes over the past couple of years wine has been the drink of choice to help us celebrate the little and the big things in life. Let's look at some of the trends that we will see in 2022.
Low ABV and No Alcohol Wines
In the past couple of years, wellness has come to the forefront of everyone's mind. The wine we drink is no different. One of the ways that people, especially millennials, are incorporating wellness into their lives is to drink low ABV (alcohol by volume) and no alcohol wines. You still get all of the antioxidants and the feeling you're celebrating but in a healthier way.
Organic Wine 
We are all more aware of how our choices affect the health of our planet. Wine drinkers have begun looking at wineries to do their part in protecting the planet and our health. Organic and sustainably produced wines are becoming increasingly more popular as people do everything that they can to reduce their carbon footprint and expect that wineries follow suit. 
Sparkling Wine Will Continue to Increase in Popularity
Bubbles used to be reserved for special occasions but now you can find sparkling wine for just about anytime. Sparkling wine is incredibly light, fresh and drinkable.  It is an excellent accompaniment to a charcuterie board and all those bubbles make everyday occasions feel like a celebration. Restaurants offer sparkling wine by the glass as well as by the bottle.  This allows their customers to have the option of a single glass or to enjoy their wine throughout the entire meal. 
Wine to go Continues to Grow 
During the pandemic people were spending a lot of their time at home and began ordering their wine online. Because we were not able to go out and get together with friends, the need for a full bottle of wine was not necessary. States allowed restaurants to sell wine to go with their food and many states have made that permanent. Due to this fact buying wine in small bottles or cans has become an increasingly popular option that looks like it's here to stay.
Orange Wine
Recently there has emerged a fourth color of wine. Orange wine. The orange color of this wine is created by processing white grapes in the same way that red wine is produced, without removing the skins. This wine is already popular in Canada and in 2022 will become more popular in the US. 
Trading Up 
As economic pressures grow, consumers will continue to balance quality and quantity of the products that they purchase. Since the beginning of the pandemic people have been reevaluating what they want their lives to look like and this has led many consumers to focus on health and wellness in mind, body and spirit. How this translates to the wine world is consumers are willing to spend a little more money on a higher quality and healthier product even if it means having less. 
Local and Shorter Wine List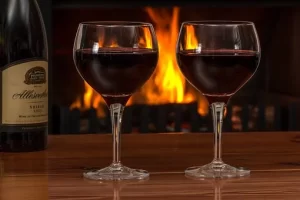 Restaurants have had so many changes that they have had to deal with the past couple of years. Now with restaurants re-opening to the public, restaurant owners want to give consumers a great experience but this may come with a higher price tag and with less options. Everyone has had to struggle with the supply issues that have cropped up from the pandemic. Restaurants are no exception. This has translated into short wine lists and sourcing wines from wineries closer to home.  
As with the past couple of years, 2022 will be a year of continual change and rebirth. The way we do everything is changing and this includes how we enjoy our wine. Whether it is locally sourced, organic, orange or in a can, 2022 promises to bring the comfort and familiarity that comes with drinking wine, while embracing new and exciting options.