You want to enjoy a tour and wine tasting at a winery in your area but feel intimidated. Don't worry, you don't have to be an expert to enjoy a wine tasting. These events are an amazing way for you to get to know your local winery, learn a little bit about wine and to enjoy new wines. Read further to learn what you need to know before heading out to a wine tasting at a winery near you. 
In the past many wineries were open to the public for tastings and tours anytime. Covid has changed the way many wineries are operating and you may not be able to just show up and expect to take part in a wine tasting. Call your winery of choice ahead of time and find out what they require especially if you are going as part of a group. Many wineries welcome children and pets although they may only allow access to certain areas of the winery. Call ahead to verify if you can bring your pets and children and what areas, if any, may be off limits.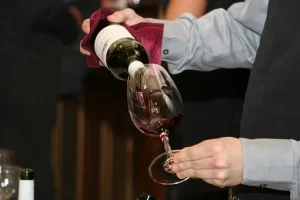 It is important for you to eat if you are attending a wine tasting especially if you have more than one planned. Many wineries have on site restaurants or serve food during the tasting. Check with the winery ahead of time and if the winery that you wish to visit does not have food available be certain to eat prior to the tasting. You will also want to drink plenty of water prior to and during the tasting to ensure that you remain hydrated. While you want to enjoy your wine and your time, you do not want to get drunk. Just the word winery brings to mind a certain sophisticated image. While wineries are nice, after all you aren't going to your neighborhood pub, you do want to wear comfortable clothes. You want to stay away from super casual clothes such as joggers and choose comfortable yet sophisticated clothing such as loose linen slacks and a nice top. Many wineries offer tours of the vineyard and winemaking facilities as part of the experience and you don't want to be wearing heels or constrictive clothing. Be certain to dress in layers as well since the vineyard will be outdoors and some of the wine making and storage areas will be temperature controlled. You may need to cover up and fend off the chill or remove a layer to cool down. Keep in mind that you will do a good amount of walking and wear comfortable shoes. Finally, smell is a large part of the tasting experience so no perfume as it will interfere with the wine tasting experience both for you and the other guests.
At the tasting, spitting wine out is absolutely acceptable especially if you are taking part in tastings in multiple wineries. Remember the goal is not to get drunk but to learn about wine. That being said, if you are only attending one tasting then by all means drink the wine. An average pour at a tasting is 2oz and there are usually 4 wines to taste. That means if you drink all 4 glasses then you will have had approximately 2 average sized glasses of wine. A tasting is not all about drinking though and to get the full experience you want to smell the wine. According to Visit Napa Valley's website, you want to make certain to swirl the wine in the glass which will allow oxygen into the wine and the oxygen will help it's aroma open up. Be sure to ask questions especially if you are lucky enough to have the winemaker available to you and take notes. You may think that you will remember the name of that amazing wine you drank but why take chances. Taking notes ensures that you will have the name of the wine and the info you learned right at your fingertips.
 Exploring area wineries and vineyards while indulging in a wine tasting can be a fun and relaxing way to spend an afternoon. With some proper preparation, you and your friends or family will have an amazing afternoon enjoying a tour of the beautiful vineyard, learning about how wine is made and indulge in drinking some great wine. 
FAQs
What do I serve at a wine tasting?
According to Food Network, if you are throwing a wine tasting in your home you will want to serve some proteins – hummus, cheese, meat – and fresh produce and you should avoid anything too sugary. 
Does wine need to be refrigerated?
Yes. According to Kendall-Jackson you should refrigerate red wine after opening and be sure to drink it up within a couple of days.