Fall is here and with it all of the wonderful produce that we've been waiting for all year. Pumpkins, squash, apples and pears appear on grocery shelves and end up in our carts. You may be wondering what wine you should be pairing with all of the lovely savory and sweet dishes that will be showing up on your dinner table. Below we will review 3 of the most popular fall foods bursting with flavors and offer wine suggestions to serve with the savory and sweet dishes made with your fall bounty. 
Pumpkin:
Pumpkins can be found in fall and Halloween decor, Autumn dishes and eerie October hauntings of headless horsemen.  Nothing says fall quite like the pumpkin. Pumpkin dishes are especially wonderful with a rich creamy feel and earthy savory flavor. A silky creamy pumpkin soup would be wonderful paired with an oaky Chardonnay. The Chardonnay will balance out the slightly sweet taste of the pumpkin and heighten the soup's traditional spices. On the sweet end of the spectrum, that fall favorite pumpkin pie pairs extremely well with a rich fruity Merlot. The wine's boldness stands up perfectly to the sweetness of the pie. 
Apples: 
Whether bobbing for apples,  covering them in caramel or crushing them into cider, apples are undeniably fall's sweetest treat. The classic fall dish of roast pork and apples is the perfect sweet and savory meal to pair with a bright and juicy white wine such as a Pinot Gris. Although we think of red wines being served with meat dishes, in this case a red or a more acidic white wine would overwhelm the dish. Your sweet apple treat will find it's match in a lovely Moscato d'Asti or a rich Tawny Port. The Moscato d'Asti, a fizzy, fruity wine from Italy, is delicious with sweet apples and buttery pastry.  Should you want to go all out on a sweet rich ending to your meal then choose a Tawny Port. The rich caramel flavor of the Port pairs wonderfully with a nice apple pie creating a truly decadent ending to your meal.             
Ginger root:
While not strictly a fall food, ginger root is the perfect addition to flavor fall dishes. Spicy ginger adds heat and warmth to dishes that are perfect for fall's cooler weather. Lighter ginger dishes such as wonton soup pair nicely with a Riesling. The fresh, fruity lightness of the Riesling balances the hot, sour, salty and sweet flavors of Asian dishes. Heavier protein dishes such as pepper steak pair well with the high acidity and low tannins of a Pinot Noir. A sweet ginger dessert such as gingerbread cake pairs well with the sweeter, gently sparkling Moscato d'Asti or a demi-sec champagne.
Pairing food and wine can be intimidating to the beginner. The world of wine is amazingly diverse and you could spend years studying to figure out all of the nuances involved. Here are some easy guidelines that anyone can follow to create amazing food and wine pairings.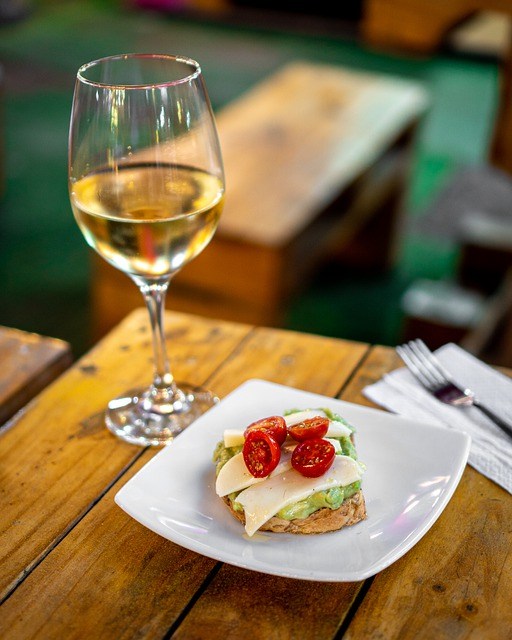 Number 1:
Forget about complimentary wine pairings if you are new to the wine scene. Congruent wine pairings are much simpler to figure out and you will still end up with an amazing wine to compliment your meal. Just look for a wine with a similar flavor profile as your food. Are you eating a meal with a rich creamy sauce? Then look for a creamy wine to pair with it. This brings us to…
Number 2:
Always pair your wine to your sauce, not the meat or meals main component. 
Number 3: 
Ensure that your wine is as bold as your dish. If you have a very rich and spicy main meal, you will want a very bold wine to drink with it. 
Number 4:
Pair acidic wines with rich fatty dishes as the acid cuts through the richness of the food and is an excellent palette cleanser.
Number 5: 
Pair sweet with salt and sweet with sweet. 
Sweet with salty: sweet wine with salty foods cuts the sweetness of the wine to bring out the wine's fruitiness. A sweet wine with salty food also cuts through the saltiness of the food leaving a more savory flavor. 
Sweet with sweet: you want to pair your dessert with a wine at least as sweet (or sweeter) as the dessert itself. A sweet wine will showcase your desserts' flavors creating a truly decadent treat. 
Often when we think of wine and food pairings we become intimidated thinking we need to be an expert. With some simple guidelines, you too can create amazing food and wine pairings that will make your dinner parties the talk of the town.