Summer in Virginia can bring pretty hot and humid weather that can be unbearable. But Virginia has some of the most spectacular scenery around during summer months. With lush greenery, beautiful skies, and breathtaking mountain views, so why not take advantage of this beautiful weather and scenery at one of Virginia's local wineries. Each summer many local wineries host fun family friendly events to showcase their wine, native musicians and other local venders.
Busch Gardens Food & Wine Festival, Williamsburg, VA: Held each weekend in June, this event showcases wine and different meal pairings from different parts of the world. Individual sampling portions along with wine pairings are available to purchase throughout one of the world's best amusement parks.
Veritas Winery Starry Nights Concert Series, Afton VA: Family fun event where Veritas turns there outdoor garden and veranda into a spectacular outdoor concert venue. Bring your lawn chairs and picnic blanket while enjoying one of Virginia's local bands. Signature Veritas Wine is available for purchase along with a buffet at one of their tables. Dates are 6/17/17, 7/8/17, 8/12/17, 9/9/17 and tickets are $15 online or $20 at the door.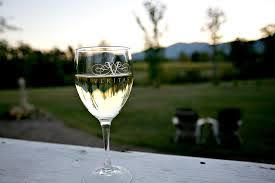 Tins for Tunes Cardinal Point Winery, Afton VA: Concert series to help collect nonperishable food items for the local food pantry. If you bring a donation, ticket cost will be discounted. Blue Mountain Brewery will be included this summer along with their food truck but other local food trucks will be available as well. So not only can you purchase Cardinal Point wine to enjoy, Blue Mountain Brewery will bring along some of their top beers to purchase too. Dates are 6/17/17, 7/15/17, 8/19/17 and 9/16/17. Tickets are $10 or $5 if you bring a nonperishable food item.
Afton After Hours, Afton Mountain Vineyards, Afton VA: Concert series held each Saturday of the Summer where you can enjoy their showcased wine, take in spectacular views of Blue Ridge Mountains and jam to local musicians. Tickets are $5 and children under 18 are free.
Virginia Summer Solstice Wine Festival, Lazy Days Winery Amherst, VA: Family fun event that is held June 24th from 11:00am-7:00pm. This amazing festival celebrates local wine from 9 wineries, scrumptious festival food, live music on two different stages, local farmers with produce, arts and crafts and fun activities for the entire family to enjoy. Admission is $10 and wine tasting tickets are $20 which includes a tasting glass.
Summers in Virginia do not have to be spent inside avoiding the hot weather but rather enjoying fun family events at many local wineries. Most wineries have shady areas to stay cool along with indoor seating if it becomes unbearable. So come out and enjoy delicious food, great music, spectacular mountain views and delectable wine from various local wineries.