This day and age there is an app for just about everything, so it should be no surprise that looking up 'wine apps' on your phone or computer leaves you with more options than you ever knew there were, and certainly more options than you ever wanted. Before you spend all your money figuring out which wine apps you do not need, I am going to give you a quick run-down on what wine apps are out there and what they are best for. From prices, to ratings and reviews, or even keeping track of your own wine collection, there are many different reasons for having an app, so knowing the app's function is essential to whether or not that app is applicable to you.
Private/Professional Collection Value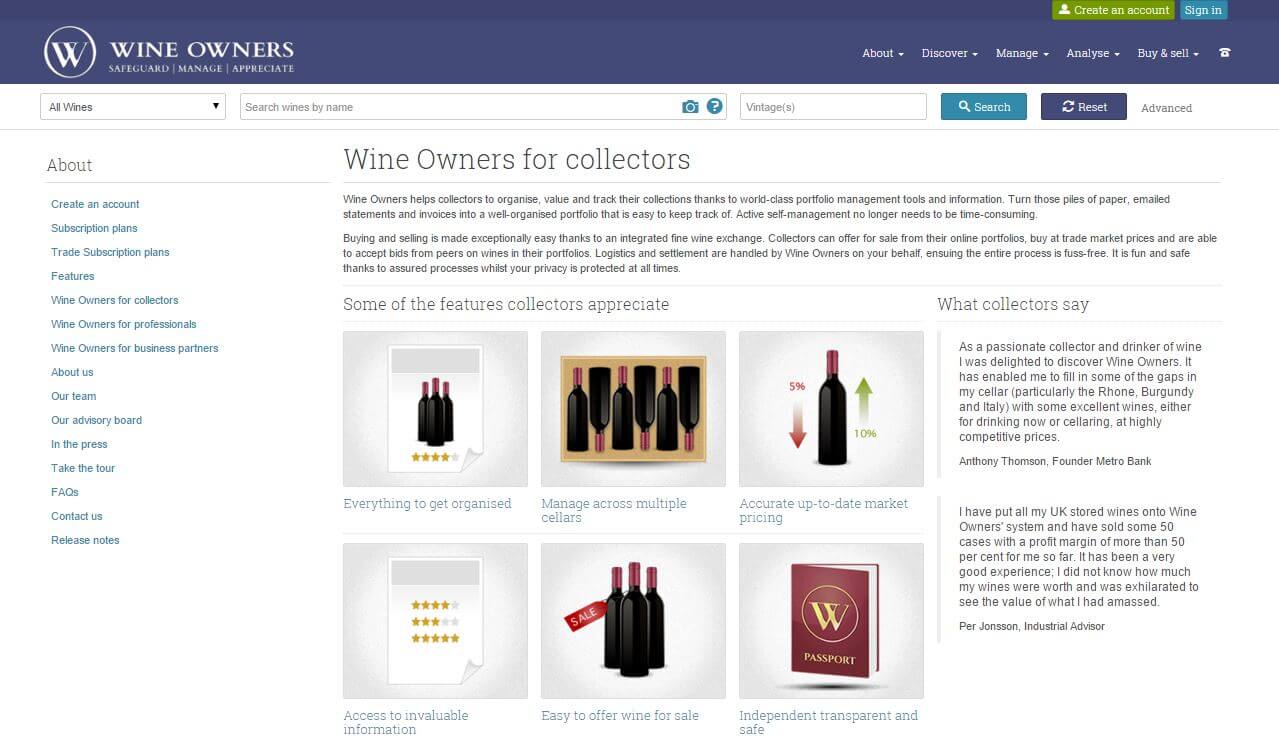 WineOwners.com – Value, track and trade fine wine
This site (and soon to be one of the most popular wine apps) is pretty incredible for collectors and businesses alike. Not only can you organize, value and track your collection, but the extra step to integrate a marketplace has been made. Your portfolio is now so much easier to view, you can manage multiple cellars and keep an eye on accurate up-to-date pricing. Their features include, but probably are not limited to:
Discovering wines
Managing wines
Analyzing wines
Buying and selling wines
Restaurants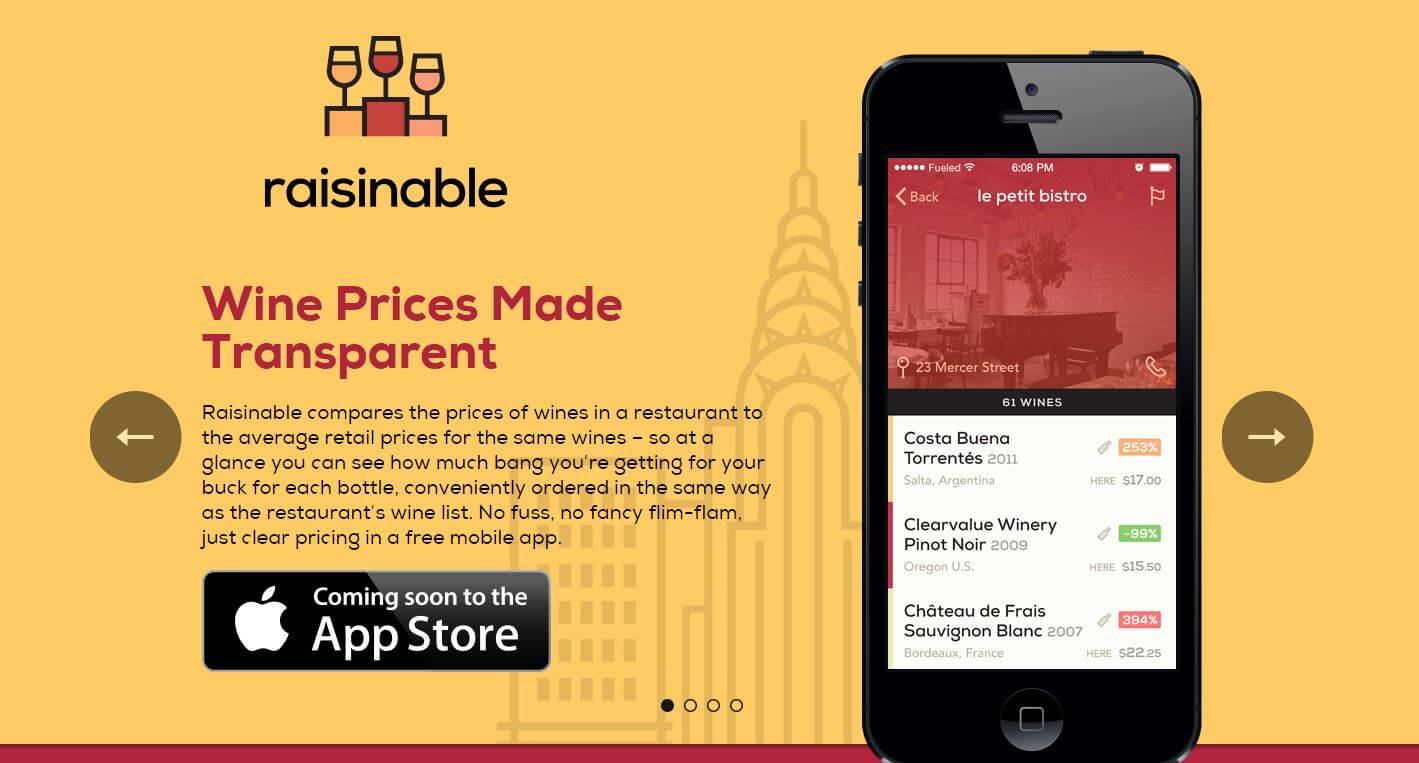 Raisinable – Wine Prices Made Transparent
Raisinable boasts that it can tell you how much the restaurant has jacked up the price of wine, and rates each restaurant on how it prices the wine. Better prices, better ratings. Obviously, in small towns this may not matter much, unless the wine is more important the dinner, but for a larger city with options, this wine app may just be the deciding factor for date night. PS. This app is on the way, so keep an eye out. There is a mailing list on the website if you want to receive updates about the app though!
Discovery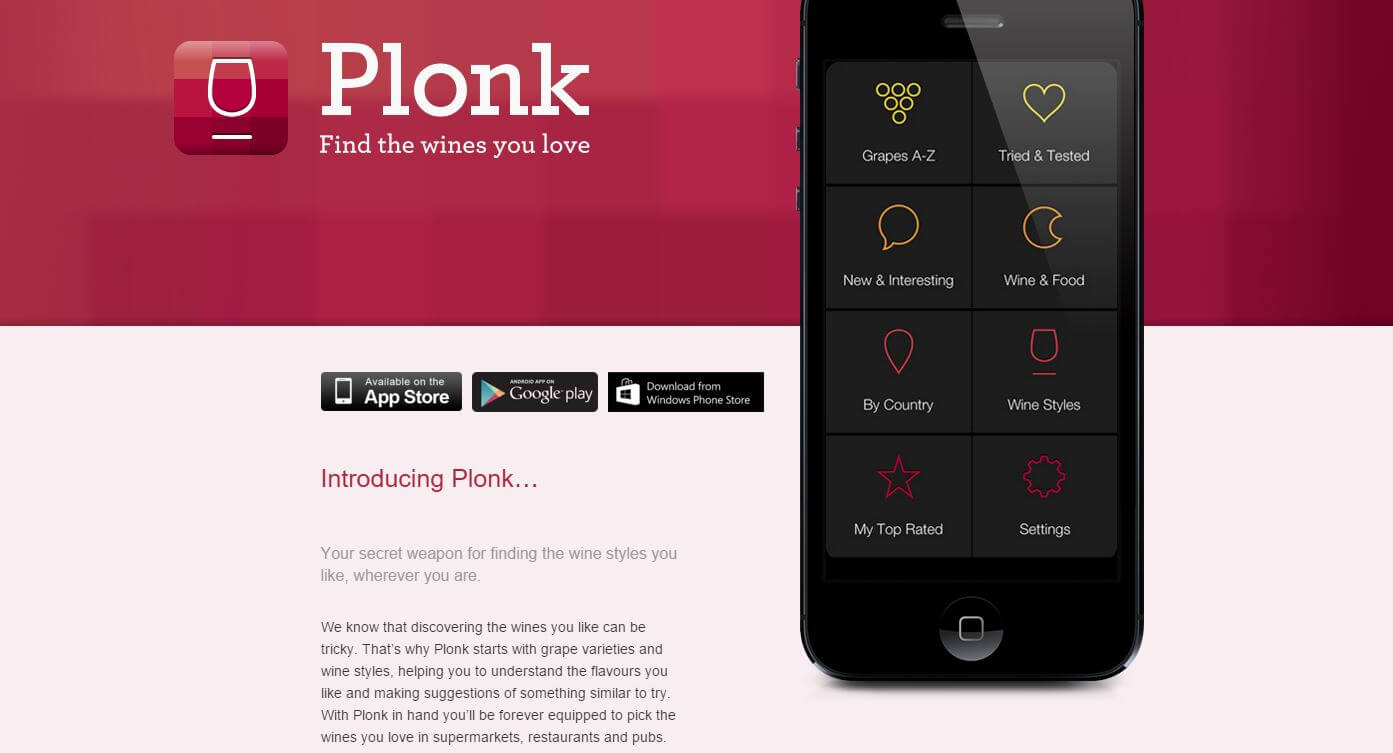 Plonk – Find the wines you love
Plonk is there for all you adventures out there. If discovering that next perfect bottle of wine if your breath of fresh air, consider your desires taken care of with this app. There are 6 different categories to aid you in this task.
Grapes
Tried &Tested
New and Interesting
Wine & Food
By Country
Wine Styles
This is useful when you are at the market buying your next bottle or in a restaurant and only drinking a glass. The attractive user interface is nice too.
Snap a photo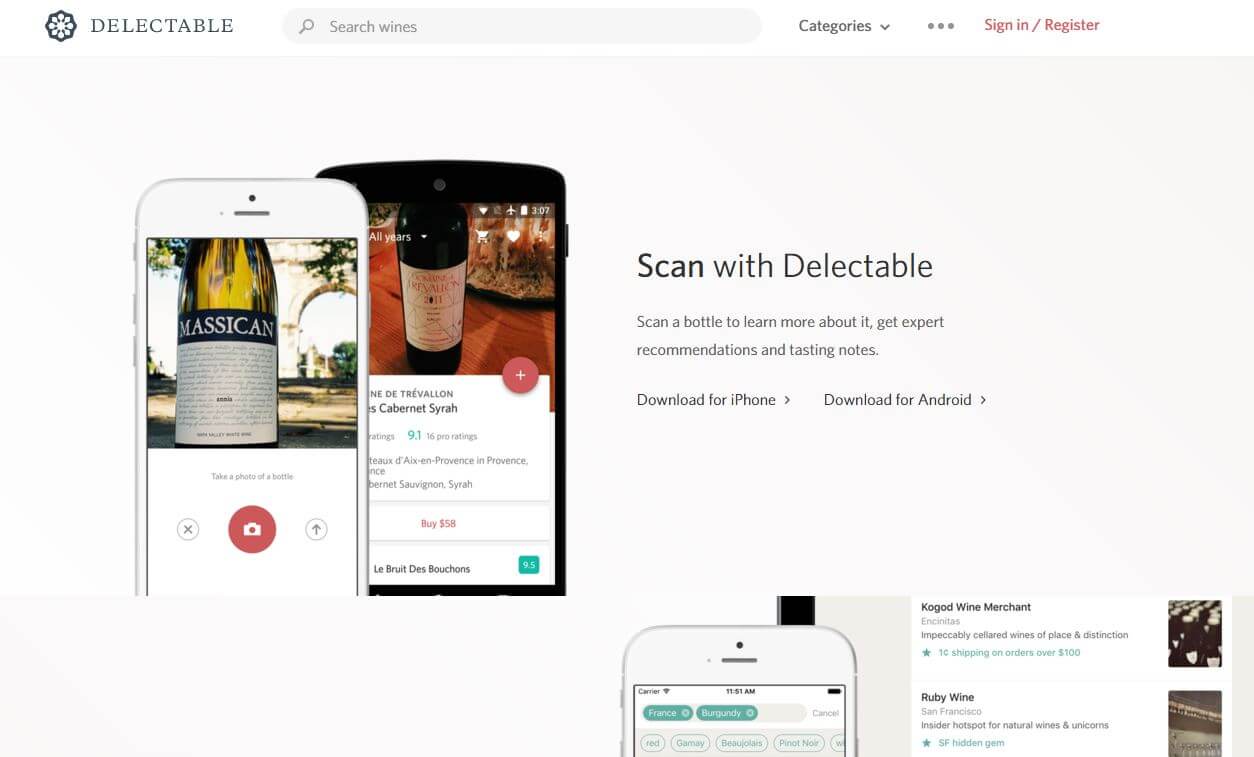 Delectable – Scan with Delectable
Basically you take a photo of the wine bottle and this wine app can search its database and give you a rating (from users and/or "pros") overall as well as per vintage. Then, if the wine is available for sale you can purchase it straight from the site. (That is if you have not already found it for sale somewhere else.) There are multiple wine apps that do about the same thing. If you want to try another, Vivino is the one I would go for.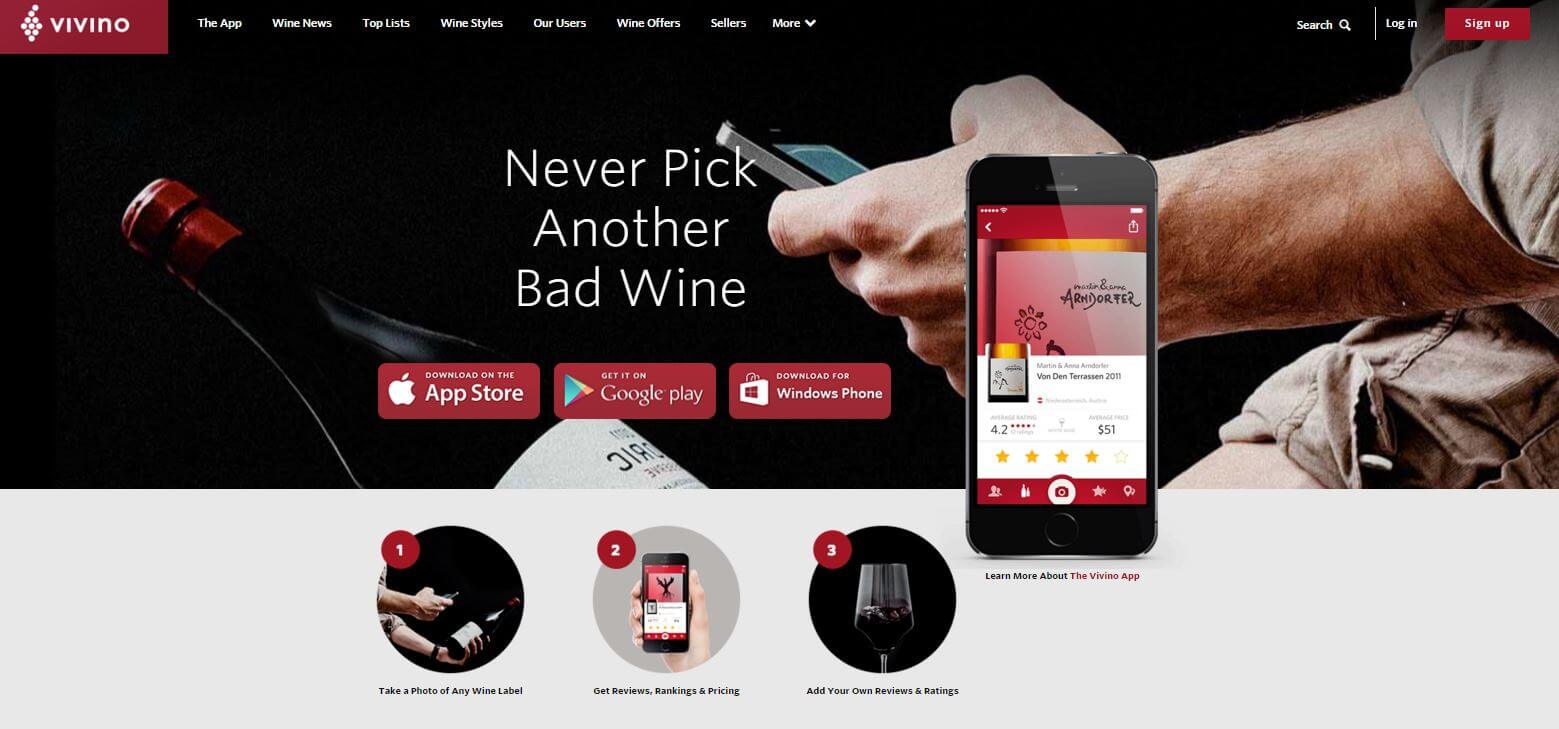 Vivino – Never Pick another Bad Wine
Which Wine to choose?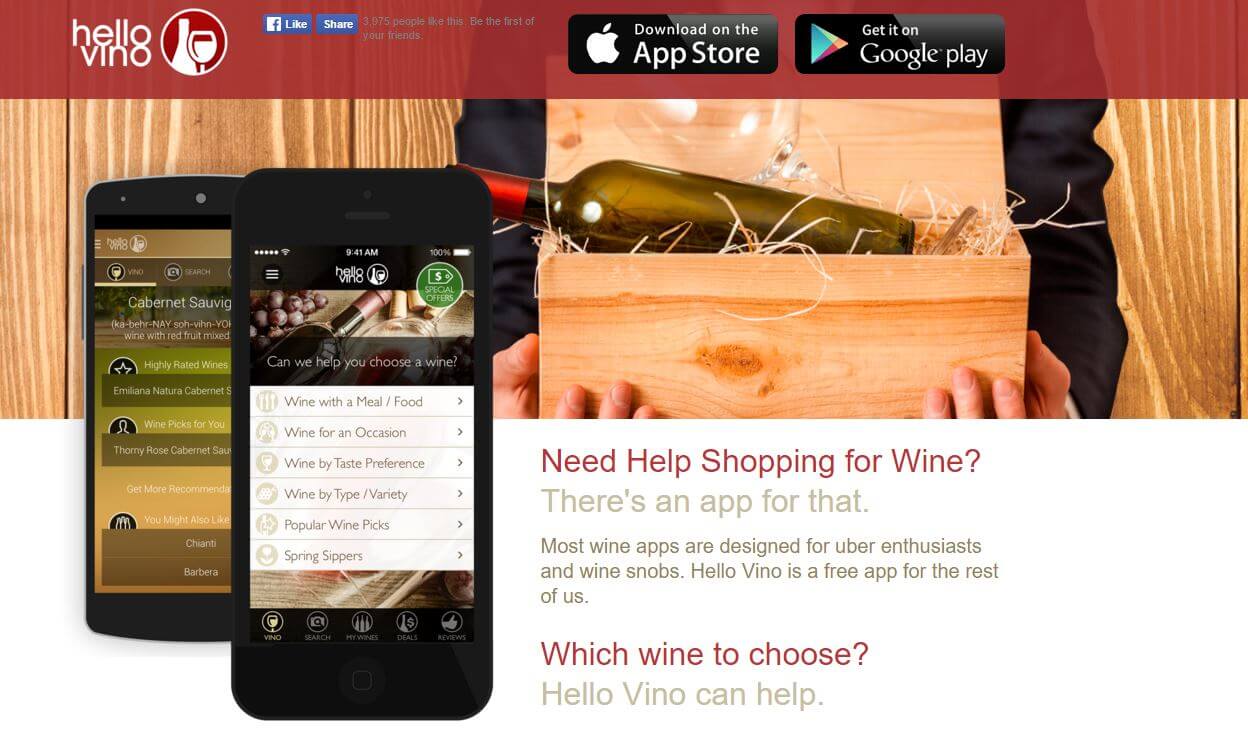 Hello Vino – which wine to choose? Hello Vino can help.
At the store and need a quick tip on what wine to pair with dinner? That is exactly what this app is about. Did I mention it's free too? Whether you are looking for cheese, chocolate, meat or even pizza pairing, or wondering what wine will be the perfect holiday gift, this is definitely one of the most popular wine apps to check out.
So you drink more than wine, eh?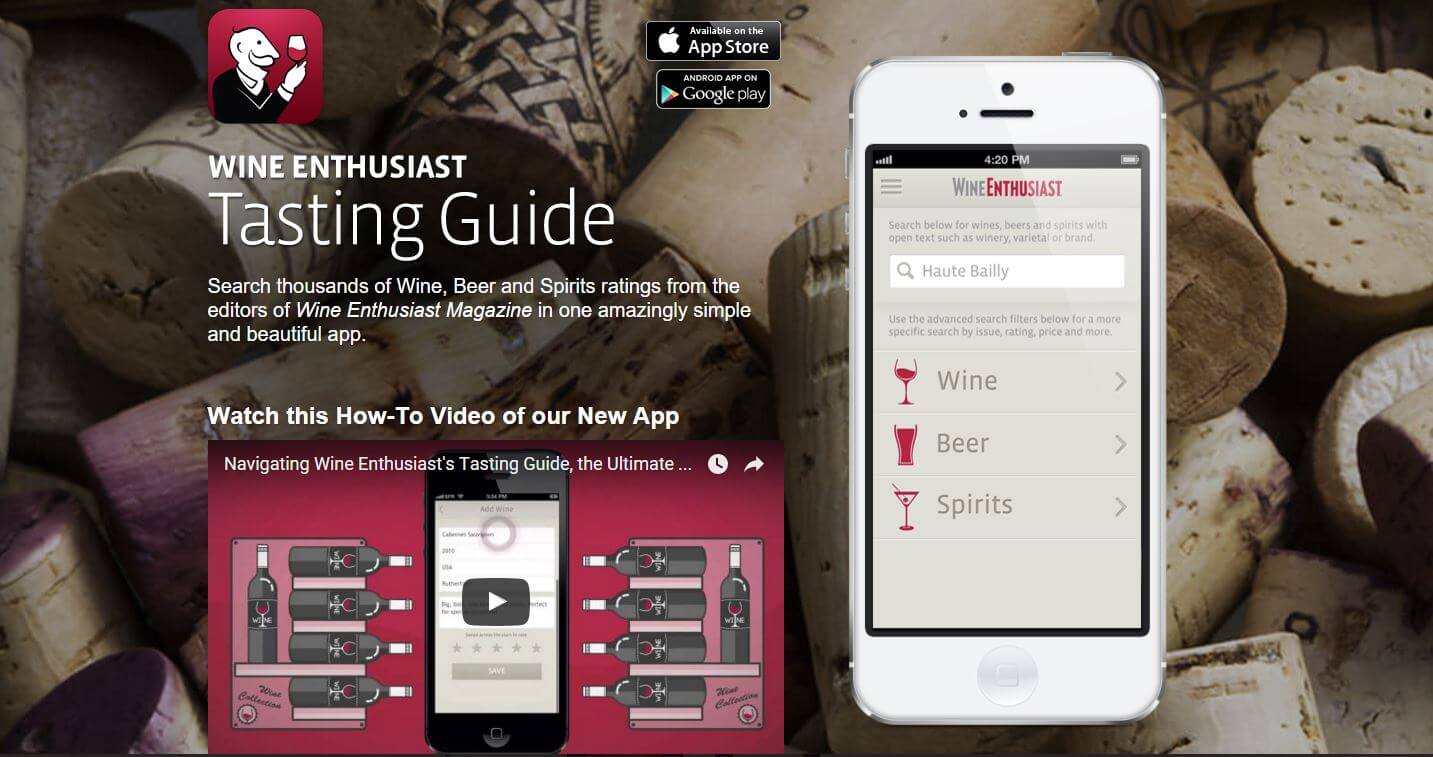 Wine Enthusiast Tasting Guide – Search, Share and Save
Wine Enthusiast Magazine's Tasting Guide App will guide you through all things beer, wine and spirits. Browse through the ratings by simply typing in a winery, brewery, varietal or even brand. There is a video on how to navigate the app on their site, but hopefully if you have the know-how to download it you will not need it. There is even an option to scan a UPC code. Or, if you feel ever so inclined to share the information you have newly discovered, the option to share via Facebook, Twitter and email is there.
With an exorbitant amount of options, we have not had time to review every single app, but these are our favorites so far. If you have come across one you like that we have not mentioned, or have a review of one of those above, we would love to hear your comments below!