Luxury Real Estate for Sale in Portugal
Click here to Learn about Private / Discreet Winery Listings
For Immediate Service
Call Daniel Langberg
+1 (866) 794-6379
Luxury Homes & Villas for Sale in Portugal
Portugal Luxury Real Estate for Sale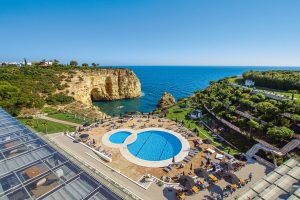 Situated at the world's crossroads, Portugal is the ideal location for luxury real estate buyers looking to make the best possible investment. Those looking for year round indoor-outdoor living – the perfect way to enjoy all the amenities luxury homes have to offer – need look no further than Portugal's captivating Mediterranean climate. Whether you're looking for a historic home in a bustling city center, a beachside villa, or a lush vineyard property, Portugal has luxury real estate for every buyer. 
Portugal Offers More for Your Money
With global real estate prices on the rise, Portugal provides luxury home buyers the opportunity to make the most of their dollar. Portugal is one of the most affordable markets in western Europe, which makes it easier to afford extra amenities that may be out-of-budget in another country. Portugal also offers significant tax benefits for foreign buyers, making Portugal's luxury real estate a smart financial investment.
Why Luxury Buyers Should Consider Portugal
In addition to Portugal's rich history and breathtaking landscape, it's the prime location for luxury real estate for two other reasons: its climate and its proximity for travel. For those who love jet-setting or want to entertain international guests with ease, Portugal is the world's crossroads. Situated in Europe between Africa and the Americas, the country has great access to international travel hubs. And nowhere else in the world can beat the climate of the Mediterranean – at any time of year! 
But the reasons to choose Portugal don't stop there. Portugal is known for its world-class education and healthcare, as well as for its low crime rates. Portugal's spot on the Mediterranean also makes it an ideal destination for leisure activities. It boasts some of the best golf courses, beaches, and resorts in Europe. 
The Best Areas for Portugal Luxury Real Estate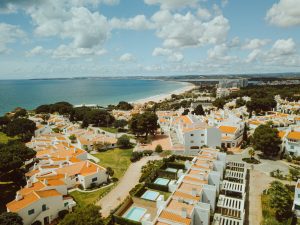 While there is no shortage of beautiful areas to find luxury real estate in Portugal, the perfect area for you depends on your lifestyle. Each of these areas features incredible amenities and lifestyle offerings, the unique and distinctive features each one boasts will help you make the right decision. From the bustling city life in Lisbon to the culture and history of Porto to the breathtaking coastal views of Cascais, we can help you find the best location for your luxury real estate. 
Lisbon:

Portugal's incredible capital city offers the opportunity for a vibrant and cosmopolitan lifestyle. Luxury real estate here offers incredible views of Lisbon's historic landmarks or of the Tagus River. If you're looking to maintain your busy lifestyle in a city that makes international business and travel easy, Lisbon is the place for you.
Algarve:

The Algarve region is known for its upscale properties and exclusive resorts. If you're looking for a luxurious, serene lifestyle, the beaches and golf courses of this Mediterranean wonderland are hard to beat. 
Cascais:

In many ways, Cascais offers luxury buyers the best of both worlds: it's in close proximity to all the amenities of Lisbon while offering a peaceful and picturesque coastal lifestyle. 
Porto:

Porto is Portugal's second-largest city, and it's known for its vibrant history, rich cultural scene, and fantastic port wine. Luxury buyers can find historic properties ranging from elegant townhouses to opulent villas. Life in Porto offers all the amenities of a big city at a more relaxed pace of life than in Lisbon. 
Sintra:

Luxury real estate buyers hoping to fully embrace Europe's history and charm should not overlook Sintra, a UNESCO World Heritage site. This area looks like it was taken from the pages of a fairytale, with historic castles offering spectacular views of the lush forests.