Looking at California wineries & vineyards for sale? 
The thought of owning a property in one of these world famous wine regions is exciting, nerve wracking, and altogether incredible! But which? Perhaps you have visited Napa Valley & Sonoma, maybe you enjoyed a brief stay, but which is the right fit for you and your new business? This article discusses the similarities and differences you will find between the two areas, and guide you on the path to owning a vineyard or winery on the beautiful West Coast.
Napa Valley Wineries & Vineyards: The Hollywood Experience
Napa is known for it's exquisite restaurants, and phenomenal 5-star lodgings in addition to the world renowned wine. If you want to be treated like a queen, eat like a king, and transported like a star, then Napa Valley is the place for you. Wine Folly has created this wine map for Napa Valley that includes a few must visit spots and must drink wines.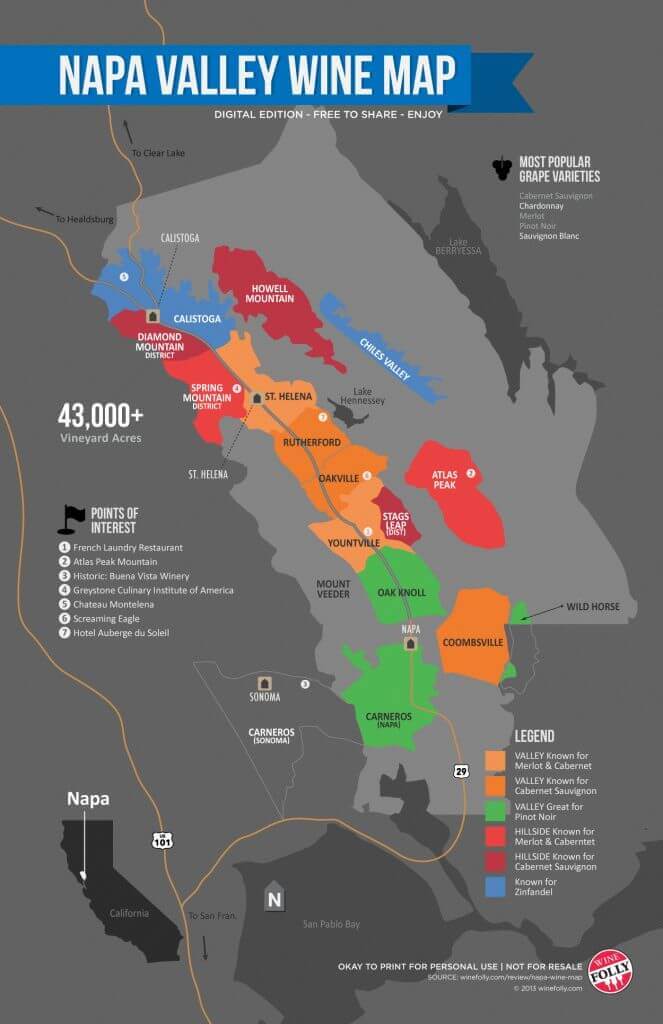 By far and large Napa Valley Vineyards and Wineries are known for their Cabernet Sauvignon. Of the California wineries there are plenty in this area that should not be overlooked. (After Cabernet Sauvignon, you should keep an eye out for: Chardonnay, Merlot, and Pinot Noir!) This area was originally known for Zinfandel, but more often than not those vines are pulled up and replaced. There are just over 45,000 acres of vines in Napa Valley, around 2/3 of what you will find in Sonoma.
It's key to taste the difference between the Cabernet's produced in the Valley's versus the hilly areas of Napa. One produces a peppery wine, whereas the other a fruitier wine – can you guess which is which? Might not be bad idea to have a sommelier by your side if you want a more refined palette around during your search for the perfect winery or vineyard for sale.
Enough about the wine for a moment, because regardless of which area you choose, excellent wine is a given. So what makes these areas different? Here are 5 reasons to buy a winery for sale in Napa Valley:
1. Lavish Treatment
You can expect to spend an average of around $500/day per person in Napa Valley. There is no shortage of ways to treat oneself in this tourist destination. Spas, shopping, limos, private wine cellars and multi-course meals make this trip one to remember.
Luxury hotels to stay in include: Auberge de Soleil, The Poetry Inn, Milliken Creek Inn & Spa.
2. Top-Rated Restaurants
With 10+ Michelin Starred restaurants, your taste buds will be thoroughly spoiled and begging for more.
Terra
The French Laundry
Bouchon Bistro
Not only are there astounding California wineries, vineyards,  & restaurants found in Napa Valley, but there are multiple phenomenal farmer's markets. Whether you are visiting or have made Napa your home, the farmer's markets are for everyone. From fresh veggies to local artisans, the variety and quality are awesome.
This 40,000 square foot marketplace is home to the best of the best of Napa. Businesses, farms and artisans come together to provide an incredible experience to be enjoyed by locals and tourists alike.
In Napa you will find not 1, not 2, but 5 golf courses. Feel free to take a break from wine tasting and pack a bottle with your clubs! There is no reason you should go without here in Napa. Have the best of both world with gorgeous views, delicious wines, and 5 courses to choose from.
Sonoma Wineries, Vineyards & Culture
If you would rather a more relaxed and go-with-the-flow attitude to go with your wining and dining adventure, Sonoma may be up your alley. Pitch a tent, ride your bike, enjoy bountiful wine tasting and the view provided. You can certainly have a more upscale experience if you would like, but you certainly do not need to. The average price per day per person in Sonoma will cost you closer to $300, about 2/3 of what one might spend in neighboring Napa. In other words, you get a little less pampering and a little more wine country. Sonoma is double the size of Napa, with far more vineyard acreage and much more laid back.
With 10+ AVA's to explore in Sonoma, there are numerous wineries and even more wines to explore. Because of it's expansiveness you can plan on only visiting a couple wineries a day, so take your time at each and really soak it in. If you are looking to purchase a California winery, and Sonoma is on your radar, you will find it much more laid back than it's counterpart.
I'll lay out a few reasons why I think you would want to buy a California winery for sale in Sonoma:
1. You want the whole (peaceful) valley to yourselves
If you don't care for the bustle, and don't mind a little drive to get to any and all amenities, Sonoma is definitely the place for you. Here you will find plenty of breathing room to accompany your breath taking views.
2. If you want to provide a delicious, more approachable wine for all.
You will find Sonoma offers a more affordable wine, but the taste is certainly not compromised. One-on-one interaction with your clientele and a more intimate tasting experience are both significantly more plausible in Sonoma.
3. The Coastline is unbelievably beautiful
While in Sonoma, the beach is yours for the taking. Hiking and long beach walks are promising for keeping you in excellent mental and physical health. Sonoma is truly a place where you can relax and soak in the sun (and wine!).
4. If you prefer a quaint setting
As if taken from your dreams, Sonoma Plaza is the epitome of quaint. Whether you want to wander through galleries, sip a cappuccino along the sidewalk, or enjoy the historic buildings that make up the downtown, you are sure to fall in love.
Obviously, you cannot go wrong either way. Sonoma and Napa are both magical places, and serve world renowned wines. It is purely personal preference that will guide you along the path to purchase your dream-come-true California winery for sale.
Inquire for more information